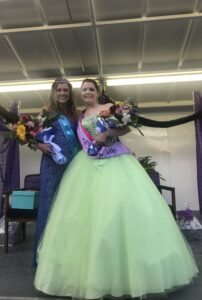 (Pictured: Curran (left) posing with Keagan Burmeister (right) following the Fair Queen Ceremony, Wednesday night.)
By: Nathan Bloechl — nathanb@977thebolt.com
Humboldt, Iowa — With a full crowd on hand at the grandstand at the Humboldt County Fairgrounds, 2016 Humboldt County Fair Queen Kaitlyn Larson soaked up her final moments as queen.
In a matter of moments, she was handing over the reigns to 2017 Queen: Kate Curran!
Curran, 18, and a 2017 graduate of Humboldt High School edged out Keagan Burmeister to win the prestigious award.
With family on hand, Curran glowed with excitement. Burmeister was awarded first runner-up, and Ms. Congeniality.
Burmeister was sponsored by Sande Construction, while Curran was sponsored by Abens, Marty, Curran Agency.
With the win, Curran will represent Humboldt County at the State Fair in August. She also won a $1,000 scholarship to be used towards further her education this fall at the University of Iowa.
Burmeister took home a $250 scholarship and each contestant walked home with a gift package. Burmeister will use her scholarship to continue her education at Northern Iowa in Cedar Falls, this fall.
2017 Fair Queen
Kate Curran
Keagan Burmeister
2017 Ms. Congeniality 
Keagan Burmeister