By: Nathan Bloechl — nathanb@977thebolt.com
Humboldt, Iowa — The new AmericInn Hotel in Humboldt is officially open — and while it's just a soft open, for now — General Manager Jason Brownfield is exicted to lead the hotel into the future.
The hotel, which features a pool, hot tub, fitness center, guest laundry and a walk-up bar has been filled since opening it's doors, which Brownfield says is probably due in part of RAGBRAI which was in Algona, Monday night.
"The first couple of days went really, really well" Brownfield explained.
"We sold out [Saturday] night, we sold out [Monday] night, it's just going really well. Humboldt needed this, so it's definitely a good thing" he stated.
The hotel is now the second in Humboldt – Dakota City, joining the Super 8 located on Highway 3.
Brownfield explained that the AmericInn rates will differ on a night-to-night basis. The new hotel does have one suite in the building, with a hot tub located in the room.
According to their website each room will feature upscale bedding, including triple sheeting for guest comfort and cleanliness. A microwave, refrigerator and 40″ TV are also in each guest room.
"[We] just want to take care of the community in Humboldt, we want to take care of anyone who needs lodging"  said Brownfield.
The new hotel is located at 307 13th Street North in Humboldt.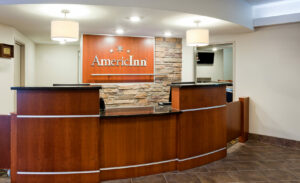 (Pictured: Front Desk of the New AmericInn Hotel in Humboldt.  All photos via americinn.com)