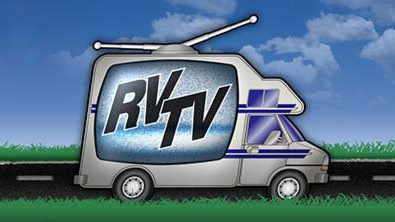 By: Jacob Sexton — jacobs@977thebolt.com
Humboldt, IA — RVTV is just a day away here in Humboldt and KHBT will be live on location for the event from 3pm to 5pm on Sumner Avenue.
WHO-TV Sports Director Keith Murphy talked about RVTV and Humboldt's role in the week long trek to the destination of the Battle for the Cy-Hawk Trophy with KHBT.
RVTV has been an idea of Murphy's quite some time as the decision to take an RV to either Jack Trice or Kinnick Stadium has been going on since the late 90's.
However, Murphy says the idea needed a change in order to freshen up the broadcasts so they decided to go to different towns the week of the game.
Once this change was made, Murphy says that they quickly found out that the smaller the town, the better the turnout for the event.
"It doesn't really matter the town size. Now we've gone to towns smaller than Humboldt. We're doing that again this year. We're going to Ellsworth. Last year, we went to Diagonal which is 300 people. Sometimes the towns that are tight knit, are the ones that are even more fun than the bigger towns." – Keith Murphy
Murphy's biggest concern when coming to a town to do RVTV is if the community would still celebrate if they never came. Regarding this issue, he says Humboldt is one of the best.
"If there's a Hall of Fame for RVTV stops Humboldt and Albia are the two locks that immediately come to mind. Webster City has always been really good too, but I think at the very top for those us that have been doing it for years would say Albia and Humboldt are the two that in some ways show other towns how to stage it in a way that's a lot of fun because the best compliment and the thing we want the most is if we didn't show up, would there still be fun for everybody there? Would everyone still have a good time? Would people notice that we didn't show up? It's just a celebration and Humboldt does that." – Keith Murphy
To close out my interview with Keith, he had one last message to those making their way out to the event this year.
"Well, first would be thank you. Humboldt has been so good to us. We'll be back for now a third time. We've been treated so well there. That's why we're coming back. Even though this year, we had more towns than ever ask us to stop. We just really wanted to go back to Humboldt because it's been so much fun and they've been so good to us. We really do appreciate that. We've established just a really good relationship with the people there and we really do just appreciate that, so the first thing would be thank you. Then the other thing would be this is just another opportunity to have some fun. We need more having with our neighbors and not less. We need to find more opportunities to get together and have a good time. Whether it be Independence Day, or a Christmas celebration, or RVTV, or Cy-Hawk street party. I think all communities need to more than ever to find excuses to put the phones down, get out of the house, get out of work, come out and have a good time. 99% of the people realize it's a fun rivalry, friendly rivalry. Wear your colors, back your team. Just come and have fun. If you can, take Friday off because Humboldt knows how to party." – Keith Murphy
It's the Battle for the Cy-Hawk trophy street festival happening tomorrow on Sumner Avenue with Keith Murphy and RVTV.