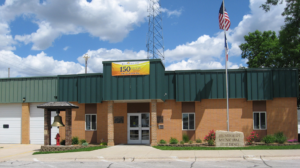 By: Jacob Sexton — jacobs@977thebolt.com
Humboldt, IA — The Humboldt City Council met on Monday at the Humboldt Municipal Building with just three of the five members present.
Mike Worthington and Kirk Whittlesey were not present.
The meeting started with the consent agenda being approved which included a transfer premise for the Knotty Pine to the Humboldt County Fairgrounds on November 2nd and 3rd.
No public input was noted so the council moved into a public hearing on a development agreement with Humboldt Veterinary Services, P.C. and KAHC LLC which would add 9,000 square feet to the facility and add two full time employees in an approximate cost for the upgrade being $500,000.
The conversing lasted three minutes as it closed with approval from the city.
Next, a public hearing was held on a development agreement with Blacktop Service Company and Wagner Holdings, LLC for an estimated $125,000 renovation for 6,000 square feet and adding 5 full time employees.
The hearing lasted two minutes before being approved.
New business included discussion on purchasing new street repair equipment which included a hot trailer for street repair adhesive.
The conversation then turned to the city possibly bringing on more part time positions to help with mowing in order to free up time for individuals in the street department to repair roads in the spring and not have to dedicate two weeks of time to help with the spring cleanup which was mutually agreed upon by the council.
However, no official action was taken.
Next were resolutions where the city approved an authorization to execute the development agreements between the city, Humboldt Veterinary services, and Blacktop Service Company.
A date was then set for a consultation and a public hearing on a proposed amendment to the urban renewal plan.
Payments were made to Blacktop Service Company in the amounts of $152,417.65 for the 2019 roadway system improvements and $47,100.00 for a change order.
A payment was made to Reding's Gravel & Excavating Company of Algona in the amount of $47,792.60 for the 2019 water valve and hydrant replacement project.
Two payments were made to Sande Construction in the amounts of $162,030.52 for the downtown revitalization project and $11,792.11 for the snow removal equipment storage building located at the Humboldt Municipal Airport where the city will only pay 10% of the cost as it was an FAA project.
Lastly, resolutions closed with an approval to the 3% pay increase of Sheriff Dean Kruger's salary and the city providing assistance to new and expanding retail businesses.
The meeting then adjourned.