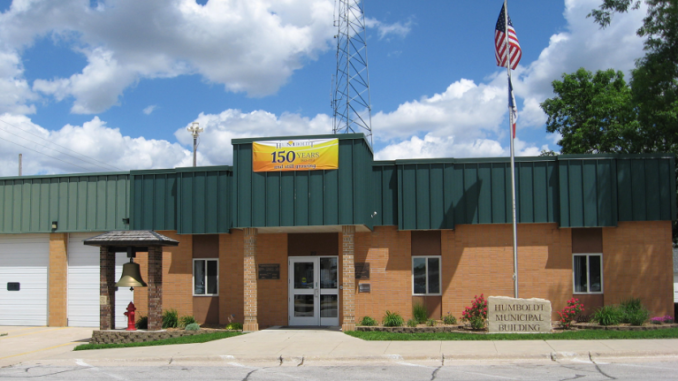 By: Jacob Sexton — jacobs@977thebolt.com
Humboldt, IA — The Humboldt City Council met on Monday night with all members present aside from City Administrator Travis Geodken who was not.
The consent agenda was approved with a 5 day Class C Liquor license be awarded to Humboldt County Pheasants Forever for the dates of November 20th-24th.
In communications, there was no public input, so next was a monthly service report from PeopleService.
The valve and hydrant project is completed with just the last finishing touching needing to be done but another $40,000 is being used to do work on the next aeration basin in the waste water treatment plant.
Reportedly, the first basin came in at $1,683 under budget but almost all of the upgrades and maintenance to the waste water treatment plant could be covered by FEMA which would be 85% of the cost, but that grant is still pending.
In new business, the purchase of the diffuser equipment for the waste water treatment plant was approved, along with a request for proposal for winter nuisance snow removal, and sidewalk work in and around Taft Park which has a budget of $40,000.
In Resolutions, Mayall Distributing LLC was approved for roof and façade repair to a building in the central business district, the street financial report for fiscal year 2018-2019 was approved, and City Administrator Travis Geodken was renewed for his position on the landfill board.
In council comments, Ward 3 representative Joel Goodell wanted the city council in the near future to take a look at doing an expansive project to repair roads since the city's bond rating is up and he believes one of the council's main objectives is to take care of the city's roads.
The meeting then adjourned and the next city council meeting is the day before Election Day on November 4th.