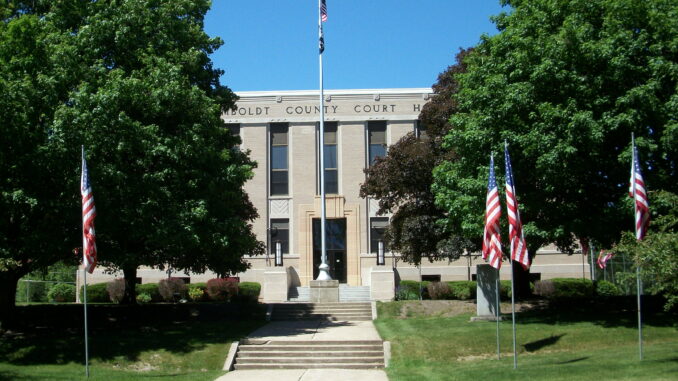 By: Jacob Sexton — jacobs@977thebolt.com
Humboldt, IA — The Humboldt County Supervisors met for the weekly meeting at the Humboldt County Courthouse.
Chairman David Lee was the only supervisor not present as Erik Underberg filled in as the conductor of the meeting.
No one was present for public concerns so they board moved into measures presented by County Engineer Ben Loots, however, Loots was not present for the approvals as the board discussed county bridge federal aid swap funding from the Iowa DOT for a bridge on Virginia Avenue from the northwest corridor south .9 of a mile.
Preliminary estimated total eligible costs for the project are $320,000 which will be reimbursed by the state.
However, Humboldt County will be responsible for any costs that exceed that estimated amount and will be considered in default of the project if it is not let to contract within three years of the agreement date.
The swap funding was passed unanimously.
Next, a new policy was passed to set ground rules for requests of hoses or pipelines needed to be put in place for liquid manure transfer from livestock facilities in the county.
The policy includes completing an application, specifications for the pipe, the installation process, and upkeep.
The policy was passed unanimously.
District 3 Supervisor Rick Pederson was then appointed to another four year term on the North Central Iowa Regional Solid Waste Agency Board.
The meeting then closed with committee reports.