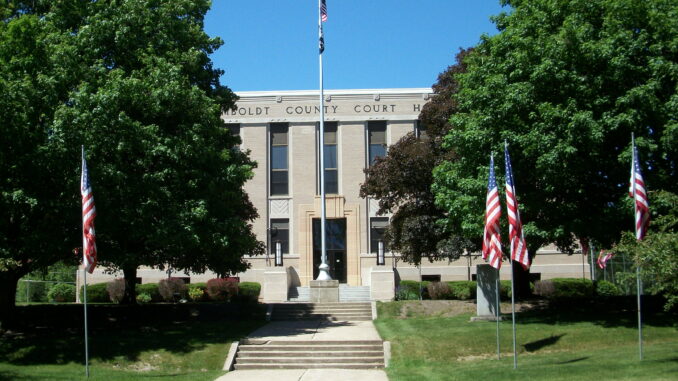 By: Jacob Sexton — jacobs@977thebolt.com
Dakota City, IA — The Humboldt County Supervisors met at the Humboldt County Courthouse for their weekly meeting.
All members were present at the meeting with Rick Pederson showing at the end.
No public concerns so the board moved into a public hearing on the county budget amendment for fiscal year 2019-2020.
Three amendments were made, with added funds of 122,404 going to public safety to help the city of Humboldt pay for the first installment of the 10 year contract agreement with Motorola for the tower project, $100,000 to county environment and education to help with payments on the new cabins in Sheldon Park, and $71,000 in administration for upgrades to software and additional improvements to the courthouse.
The budget amendment was passed unanimously.
Next was county engineer Ben Loots who had his public hearing for budget amendments moved to a later date and went ahead with an application that was approved for a permit to groom a snowmobile trail from McKnight's Point to LuVerne.
Loots did add though that the north side of the trail would be discontinued if there is a problem with snow drifting after the grooming.
Next, a contract between the city of Humboldt and the county was approved to increase the pay of Sheriff Dean Kruger.
The meeting then closed with committee reports and a work session on Reasoner Dam where a plan of action was discussed for future work to be done with the board and Todd Lee.
No official action was taken.