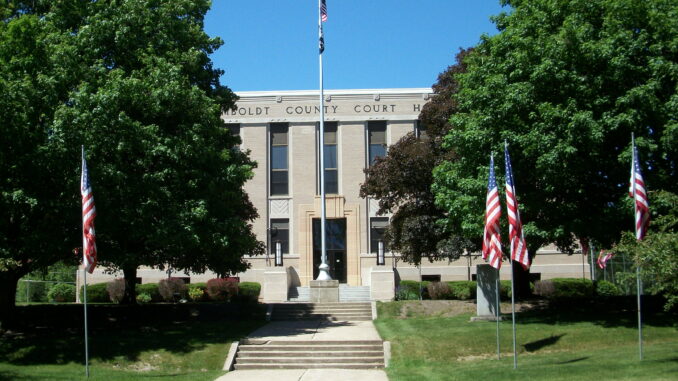 By: Jacob Sexton — jacobs@977thebolt.com
Dakota City, IA — The Humboldt County Supervisors met for their weekly meeting at the Humboldt County Courthouse yesterday morning.
A tax abatement and tax sale certificate was approved for part of Lot 10 and all of Lot 11, Block 8 in Bradgate.
County Engineer Ben Loots then came before the board with a few orders of business.
An approval was made for plans and specifications for a bridge replacement project that is scheduled to begin in the spring of 2020.
The replacement will be for Bridge 51 with a letting for February to turn it from a 66 foot bridge to a 120 foot concrete slab bridge.
The road will be raised approximately 1.5 feet and widened to 24 feet.
A final pay voucher was approved in the amount of $7,407.79 for a road patch on the western side of C20 near Livermore.
Next, a hearing date was set for November 25th to vacate Kentucky Avenue from the southeast corner of Section 27 in Corinth Township.
Two more approvals were made with an application to work in the right of way for Larry Trauger in Section 18 of Vernon Township and an application to work in the right of way for David Welter in Section 23 of Wacousta Township where both construction plans are looking for an intake to be installed.
Lastly, Loots reviewed an application to work in a county right of way for Herman Hauck who was seeking to fill a ditch on private property but the board expressed concerns over water being prohibited from running off the road.
No official action was taken.
All claims for the county were approved in the amount of $767,830.99, a Weed Commissioner report was given by Erik Underberg, and the meeting closed with committee reports.
Underberg did say that he had a meeting with Murphy Tower and that the tower project for the LEC could be finished by the end of the year with Murphy Tower agreeing to install the balance on the tower.