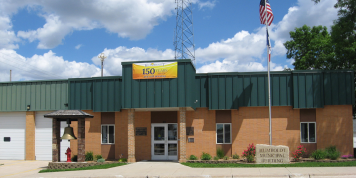 By: Jacob Sexton — jacobs@977thebolt.com
Humboldt, IA — Yesterday morning in the city council chambers the Public Safety Commission met for their monthly meeting with all members present.
Claims were approved for the month of October and November in the amounts of $9,666.90 and $11,309.15.
In Old Business, the commission discussed an update on the tower project with a tentative start date for the final parts of the tower to be put in place by the first part of December.
Murphy Tower explained to the commission that they will be using simpler parts than originally needed so the commission will be allowed a check list on the unused parts for the project to be reimbursed.
Next was an update on the parking lot project which is believed to be completed by the end of the week barring the weather.
In New Business, the commission discussed the monthly budget report as the current budget is currently on a higher spending pace than what the commission liked.
Approximately 46% of the budget has been used of the $500,000 budget for the fiscal year as costs have gone over on office equipment maintenance and property insurance.
However, the commission did agree that all other lines of cost were around anticipated and will be monitoring the spending in case a budget amendment may be needed in the future and how the commission will be budget for the next fiscal year. The meeting then adjourned.