Mar
6
Sat
Renwick Fire Department Fish Fry Fundraiser

@ Renwick Community Center
Mar 6 @ 5:00 pm – 7:00 pm
The Renwick Fire Department will be holding a fish fry fundraiser March 6th with a predetermined snow reschedule date of March 7th if need-be. The event will take place at the Renwick Community Center with a start at 5pm and end at 7pm and will require a free-will donation to enter. Carry-out will be available, though there will also be seating available for those who choose to dine-in. Proceeds from the event will go toward an addition to the fire shed. On the menu is fish, fries and coleslaw.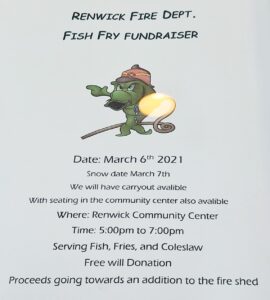 Mar
20
Sat
Webster County Pheasants Forever Banquet
Mar 20 @ 4:30 pm – 4:30 pm
The Webster County Chapter of Pheasants Forever 36th Annual Banquet will be held on Saturday, March 20th at the Webster County Fairgrounds
south of Fort Dodge. Doors open at 4:30pm with a New York Strip dinner catered by Hy-Vee served at 6:15pm. Numerous games and raffles, including a special youth raffle table, plus Live & Silent Auctions are planned. For additional information on the banquet & tickets contact Jerry Beck, Banquet Chairman at 515-571-7406 or jerry@fdtrans.com.
Mar
28
Sun
Humboldt Rifle and Pistol Club – Last Indoor Pistol Match Of The Season

@ Indoor Range
Mar 28 @ 1:00 pm
The Humboldt Rifle and Pistol Club will be hosting their last indoor pistol match of the season this coming Sunday, March 28th at 1:00pm.
The event will take place at the indoor range located at 13 8th Street South in Humboldt.
The match will consist of 44 round, run in two 22 round strings at a cost of $10 per attempt.
Spectators are welcome, proper eye and ear protection will be required for anyone on the range.
Please feel free to contact Jim Mertz with any questions by phone at 515-368-1495 or by email at jimmertz1980 @ gmail.com