Mar
6
Sat
Renwick Fire Department Fish Fry Fundraiser

@ Renwick Community Center
Mar 6 @ 5:00 pm – 7:00 pm
The Renwick Fire Department will be holding a fish fry fundraiser March 6th with a predetermined snow reschedule date of March 7th if need-be. The event will take place at the Renwick Community Center with a start at 5pm and end at 7pm and will require a free-will donation to enter. Carry-out will be available, though there will also be seating available for those who choose to dine-in. Proceeds from the event will go toward an addition to the fire shed. On the menu is fish, fries and coleslaw.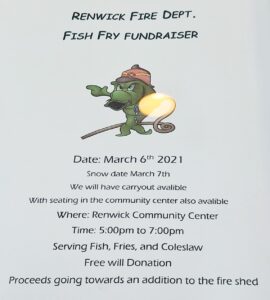 Mar
25
Thu
Lawn and Garden Open House

@ Carroll Implement
Mar 25 @ 8:00 am – Mar 27 @ 12:00 pm
Join Carroll Implement in LuVerne for their Lawn and Garden Open House featuring Bad Boy and Ferris Mowers this Thursday through Saturday.
Thursday and Friday event hours will be 8:00a.m. – 5:00p.m.
Saturday event hours will be 8:00a.m. – 12:00p.m.
Refreshments at event will include: pop, coffee and cookies.
Trade-ins are welcome. Test drives and zero percent financing are available.