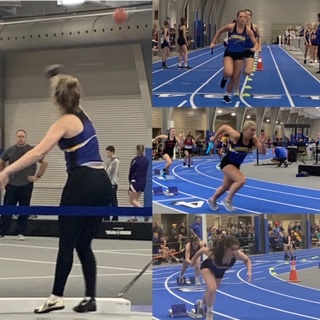 Humboldt, IA – The Humboldt High School girls' track and field team walks away with a win in first track meet of the season.
On Thursday, March 12, the Wildcats girls' track and field team hosted the 2020 Nielsen Family High School Girls' at the Humboldt Rec Center. Seven other area schools competed in this years meet.
The Wildcats finished first in the combined team scoring with 215 points. In second was Carlisle who scored 123 points as a team. Finishing third was Pocahontas Area with 54 points.
Here is how the Wildcats finished by event:
60 meter dash:
Place: Name,           Time
3rd: Morgan Olson, 8.66
5th: Alexis Hansen, 8.92
6th: Carlie Thompson, 9.00
10th: Rylie Satern, 9.13
15th: Kaylee Heston,  9.52
23rd: Michelle Cox, 10.15
29th: Maggie Cowan, 10.66
200 meter dash:
1st: Paige DeWinter, 28.31
4th: Shelbie Heinz, 29.79
8th: Morgan Olson, 31.13
12th: Mia Harris, 32.49
16th: Alondra Torres, 34.12
17th: Michelle Cox, 34.54
300 meter dash:
3rd: Jennika Beach, 50.61
4th: Kayla Gieber, 51.00
8th: Kaylee Moser, 53.86
16th: Abby Satern, 59.65
400 meter dash:
5th: Addie Thompson, 1:11.55
6th: Kayla Gieber, 1:12.74
11th: Alexis Hansen, 1:19.79
17th: Abby Satern, 1:27.31
600 meter run:
3rd: Kinzie Peyton, 1:56.27
4th: Jayda Hoefer, 1:56.50
6th: Brett Harklau, 2:02.24
7th: Allison Hoag, 2:02.78
800 meter run:
1st: Kirstyn Beaman, 2:51.30
2nd: Jayda Hoefer, 2:52.94
3rd: Brett Harklau, 2:53.03
4th: Kinzie Peyton, 2:53.81
1000 meter run:
1st: Bryce Gidel, 3:24.18
5th: Allison Hoag, 4:00.85
7th: Kali Beaman, 4:02.16
1500 meter run:
2nd: Bryce Gidell, 5:10.21
4th: Allison Hoag, 5:59.21
7th: Kali Beaman, 6:17.76
60 meter hurdles:
2nd: Jori Hajek, 10.22
3rd: Lily Groat, 10.60
5th: Claire Varangkounh, 10.94
13: Rylie Satern, 11.56
4×200 meter relay
Place: Team,           Time
(names of those on team),
1st: Humboldt 'A', 1:57.54
Thompson, Lange, Hansen and Dewinter
5th: Humboldt 'B', 2:04.68
Gieber, Moser, Dettmann and Heinz
4×800 meter relay
1st: Humboldt 'A', 11:30.61
Beaman, Hoefer, Harklau and Peyton
1600 meter distance medley
1st: Humboldt 'A', 4:44.12
C. Thompson, Lange, Varangkounh and Gidel
4th: Humboldt 'B', 5:13.36
Hajek, A. Thompson, Dettmann and Beaman
4×60 meter shuttle hurdle relay
1st: Humboldt 'A', 40.97
Hajek, Groat, Dettmann and Varangkounh
—: Humboldt 'B', DQ
R. Satern, Beach, A. Satern, Torres
High Jump
Place: Name,              height
1st: Kailee Detmann, 4′ 8″
5th: Lily Groat,  J4′ 6″
Shot Put
Place: Name,            distance
1st: Kendal Clark, 42′ 4″
9th: Deni McDaniel, 29′ 5″