Feb
10
Fri
Humboldt Community Chorus – "One in Harmony"
Feb 10 @ 7:00 pm – Feb 12 @ 2:00 pm
Humboldt Community Chorus Presents "One in Harmony" on Friday, Feb. 10th at 7pm, Sat. Feb. 11th at 2 & 7pm, then on Sunday Feb. 12th at 2pm.  It will be at the Humboldt High School Auditorium, tickets for the show are $12 for adults, $5 for children under 18.  Tickets are available at Humboldt Hy-Vee, V&S Variety, from Chorus Members or you can call 515-379-1072.  To order tickets online go to www.humboldtchorus.com.
Feb
22
Wed
Annual Warm The Heart Food Drive – HCMH & Humboldt County Public Health
Feb 22 @ 7:00 am – 3:00 pm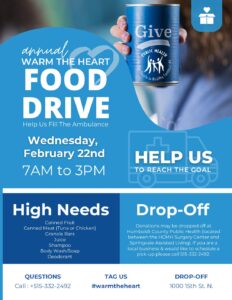 The Annual Warm the Heart Food Drive is a combined effort between Humboldt County Memorial Hospital and Humboldt County Public Health to stock the Humboldt County Food Pantry and they need your help! You can make a difference in someone's life so let's open our hearts on Wed, Feb. 22nd and help us Fill the Ambulance from 7am-3pm. Donations may be dropped off at the Humboldt County Public Health located between the HCMH Surgery Center and Springvale Assisted Living. . At HCMH, caring for our community means more than just providing high-quality patient care; it means helping others through kindness and generosity. If you are a local business and would like to schedule a pick-up or have questions, please call 332-2492. The more you open your heart to others, the more your life becomes joyful. Thank you for helping us fight hunger in Humboldt County.
LETS MAKE THIS OUR BIGGEST YEAR EVER, AND STOCK OUR LOCAL FOOD PANTRY!!
If you have any questions, please feel free to call us at 515-332-2492!
FEBRUARY HIGH NEED ITEMS:
MACARONI & CHEESE – TUNA HELPER – HAMBURGER HELPER
OTHER NEEDED ITEMS:
Soup & Crackers                               Scalloped Potatoes
Instant Potatoes                               Rice
Pancake Mix & Syrup                      Cereal & Oatmeal
Peanut Butter & Jelly                      Canned Fruit
Applesauce                                        Fruit Snacks
Pop Tarts
Granola Bars                                      Spaghetti Noodles & Spaghetti Sauce
Egg Noodles                                       Cream Soups
Tuna                                                      Deodorant
Toothbrush                                        Toothpaste
Shampoo                                             Body Wash & Soap
Laundry
(Please, no expired items or items with a broken seal.)
Monetary donations are ALWAYS welcome!
Mar
17
Fri
Meals From the Heartland
Mar 17 @ 8:00 pm – Mar 18 @ 12:30 pm
The 11th Annual Meals from the Heartland Event in Humboldt County will be held on Friday, March 17th for Students, and Saturday, March 18th for the community there will be 3 shifts 1) 8-9:30am, 2) 9:30-11:00am, and 3) 11:00-12:30pm at Our Saviour's Lutheran Church, Fellowship Hall.  One meal cost 25 cents so $1 will feed 4 hungry people!  Donations and volunteers are needed to package meals.  Please contact Allen Goche at 515-890-9116 or Jan Goche at 515-890-9117.