Apr
2
Sun
American Legion Otto Field Post 415
Apr 2 @ 8:00 am – 12:00 pm
The American Legion Otto Field Post 415 will be having an Omelet Breakfast on Sunday, April 2nd from 8am – 12pm at the Livermore Legion.  The cost is $10 per person.  Come join us for Breakfast.
Badger Fire & Rescue Omelet Breakfast
Apr 2 @ 8:00 am – 11:30 am
Badger Fire & Rescue Omelet Breakfast will be Sunday April 2nd.  Serving will be from 8-11:30 am, in the Badger Fire Station, Tickets are Adults -$10 each and Kids under 5 eat for free!  Proceeds go to the purchase of new equipment, Donations are welcomed, mail to Badger Fire Station Po Box 136 Badger, IA 50516.
Gilmore City Fire & EMS Breakfast
Apr 2 @ 8:00 am – 1:00 pm
Gilmore City Fire Depart. & EMS Crew are hosting a FREE WILL Biscuits & Gravy breakfast Sunday, April 2nd from 8am – 1pm at the Gilmore City Fire Department.
May
7
Sun
Humboldt 5K Color Fun Run & Walk for Mental Health & Suicide Awareness
May 7 @ 1:00 pm – 5:00 pm
5k Color Run_HCMH  CLICK HERE FOR REGISTRATION FORM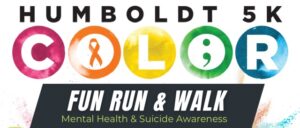 Sunday May 7th, 2023 Beginning at 1 PM
Register now before April 17th to get a free Tshirt, power and a special gift. Get up and glow with color with HCMH and the Humboldt Schools to raise money and have some fun to support, educate and empower our children, students, adults, families and community members of Humboldt County and show everyone the importance of our mental health. Registration is $35 for Adults and $15 per student. The event will be held on the trail around the Humboldt High School and Middle School. Color gear pickup is at 1pm and the Run/Walk starts at 2:30pm
This year marks the 2nd Annual Mental Health/Suicide Awareness 5K Color Run. With such a great turnout last year we wanted to reach out to see if businesses around Humboldt would be interested in becoming a supporter of this valuable event. Your Support of mental health in our community provides increased access to services for those struggling with a mental health challenge in our community and the surrounding areas.
It is estimated 1 in 5 adults and teens struggle with a mental health challenge in the United States; 1 in 6 children struggle with a mental health challenge. Limited access to resources, community perceptions and stigma around mental health and affordability of care contribute to the barriers and continued factors which prevent individuals and families from seeking services.
Your participation in our Color Run helps to address each of these barriers. With your continued suport, we are creating increased acceptance, increased access to services in our community, and addressing the negative stigma surrounding mental health challenges.
Available Sponsorships:
Green Sponsor: $1,000

8 registrations and event advertising

Yellow Sponsor: $500

4 registrations and event advertising
Blue Sponsor: $250

2 registrations and event advertising
Thank you for your time and we look forward to hearing from you