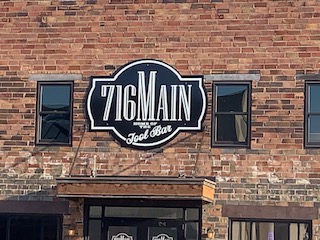 By: Donovan W. Mann – donovanm@977thebolt.com
Humboldt, IA – A new downtown restaurant is set to open their doors to the public and begin serving dinner on Monday.
716 Main is ready to begin business and will be opening Today, Monday, May 11 at 5 pm. Located on Sumner Avenue, the new restaurant will be located in the building that was once Gordy's at Rustix and is under new ownership. New owners Vaughn and Lori Bauer also own a similar restaurant in Payton, Iowa called 209 Main.
Vaughn Bauer says there are similarities between 716 and their first restaurant. "If you look at the two, especially in the bar area, they look a lot alike" he says. However, he does say the building at 716 Main is older and also includes a gaming room just off the bar. The dining area at 716 main, including the upstairs area, will be able to set over 200 people he says as well.
With the menu for 716 Main, it will be similar to 209 Main but the chef will have some creative freedom. "I think we got a pretty good chef" Bauer complements. He says the chef is excited about being a part of the crew that gets to build 716 Main from the beginning. If there are some variations in the food, the owner says it will be based "however chef wants to do his thing."
When it comes to the bar, Bauer says there will be plenty of options to what is on tap. He says there are 20 beers on tap at 716 Main. Selection will also include local and Iowa brewed beers along with other popular domestics and imports. He says the microbrew trend has grown over the past few years and calls it a "big deal."
716 Main located in downtown Humboldt will be opening for dinner traffic starting Monday, May 11 at 5 pm.