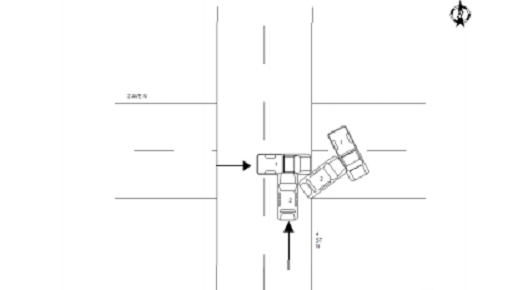 By: Donovan W. Mann – donovanm@977thebolt.com
Humboldt, IA – No injuries reported after a two car collision occurs in a Humboldt that leaves both vehicles totaled.
Officer Tom Nielsen of the Humboldt Police Department reports that on Monday, April 27, James Sobkoweak, 24, of Rutland was traveling eastbound on 2nd Avenue North as Susan Marchant, 55, of Humboldt was northbound on 4th Street North. As both drivers entered the intersection Sobkoweak attempted to stop but was unsuccessful. The action resulted in Marchant's silver Buick Park Avenue to strike the board side of Sobkoweak's blue Dodge Ram 1500.
The incident resulted in severe damages to both vehicles, which had to be towed away from the scene. No injury was reported to Officer Nielsen at the time of the incident