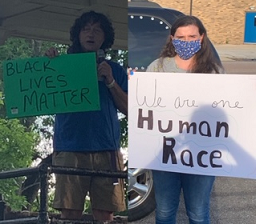 By: Donovan W. Mann – donovanm@977thebolt.com
Humboldt, IA – Two separate demonstrations for equality in Humboldt remain peaceful as the local community shows their support for change.
The City of Humboldt sees two peaceful in the downtown area. On Friday June 5 and Saturday June 6 two different groups organized separate events in support of social justice equality. Local law enforcement was well informed of both events.
Humboldt County Chief Dean Kruger confirms communication with the organizers of both events. He says that they were promised peaceful events. The sheriff also confirms that both organizers assure they did not be bringing any outside influences to the demonstrations. He says the contacts assure their message is about issues in the county and not anti-government or police. Sheriff Kruger also assures police presence was available for both events and prepared to act if they were to get out of hand.
The Friday's demonstration was organized by John Grause and a few of his friends in order to call attention to a big issue facing this country. He calls the problem "systemic police violence." He says "we have to solve this problem. We have to solve social and justice inequality." The biggest goal from Friday was to start a conversation. Grause does say this is not an 'all cops are bad' stance and he did share his mother was saved by a police officer during a hostage situation when he was in high school.
The demonstration on Saturday was a parade for equality organized by Ananda Marie-Boyd, who thought a parade was a good way to peacefully spread a message. "Simply I'm just trying to make people aware" she shares. She recognizes in a small town such as Humboldt the issues of social injustice might not get talked about. The idea for a parade first came to her while she was sitting in her room. The parade started at Humboldt High School and went through Downtown Humboldt and Dakota City while being escorted by Sheriff Dean Kruger.
Both demonstrations saw a decent turnout as they helped spread their message and remained peaceful for the entirety of the events. While the calls for change continue to ring across the country, members of the Humboldt Community join the call and work to spread the message of equality.