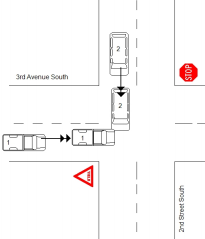 By: Donovan W. Mann – donovanm@977thebolt.com
Humboldt, IA – No injuries reported after a driver fails to yield at a four way intersection Saturday evening in Humboldt.
Officer Erin Bennett of the Humboldt Police Department files the report on the two car incident. Her report states that on Saturday, Aug. 29, Heather Roethler, 26, of Fort Dodge was eastbound on 3rd Avenue South approaching the intersection of 2nd Street South as Donald Marcellus, 85, of Humboldt was southbound approaching the same intersection. As the two drivers approach the four way intersection, Roethler failed to yield at the sign instructing to do so. The action resulted in the front driver's side of her beige Ford F 15 to strike the front passenger side of Marcellus's beige Chrysler Town and Country.
The incident resulted in functional damage to both vehicles that were both driven away from the scene. No injuries were reported by Office Bennett at the time of the incident.