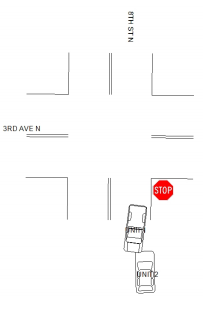 By: Donovan W. Mann – donovanm@977thebolt.com
Humboldt, IA – No injuries reported after a semi-truck bumps into a parked vehicle Friday morning.
Officer David Jones of the Humboldt Police Department reports on the two vehicle incident. His report states that on Friday, Aug. 28, he was dispatched to the scene at the intersection of 8th Street North and 3rd Avenue North. At the scene was Robert Miller, 67 of Humboldt with a Blacktop Service Mack 700 and a parked blue Kia Forte. Miller reports to the responding officer that he parked his truck in front of the Kia with the brake on but the truck started to roll and hit the parked car.
The incident resulted in minor damages to the truck and disabling damages to the Forte that was towed away from the Scene. No injuries were reported by Officer Jones at the time of the incident.