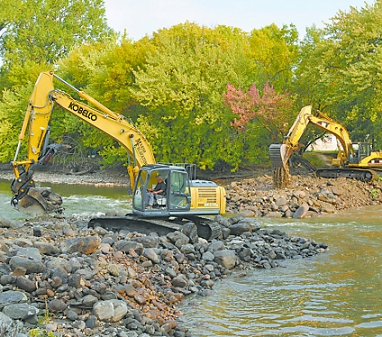 By: Donovan W. Mann – donovanm@977thebolt.com
Humboldt, IA – The City of Humboldt is being required to decrease the size of two rock dams in the Des Moines River.
During recent council meetings for the City of Humboldt there has been discussions on the rock dams in West Fork Des Moines River that are in the city limits. City Administrator Travis Goedken confirms that the rocks dams are permitted by the DNR but their current size is not.
The first dam in question is located by the water plant in the northern part of the city. The second dam is located more south by 8th Avenue South. As the case for both dams the DNR and Army Corp of Engineers has received complaints and the city has been found in violation of the dams being too large.
The city administrator confirms that the only part of the agreement the city is found in violation of is the dams need to be made "much smaller." Goedken says that all the material currently making up the dams came directly from the river bed. No foreign material is allowed as part of the permit and agreements. "That's the case there" he says. The "only issue" is that the dams do not fit within the specified dimensions.
In order for the city to be in compliance with their permit the rock must be completely removed from the river. Goedken says that the DNR and United States Army Corps of Engineers will not allow the city to "sluff the rock back into the river, where it came from" but rather stock pile it all. The stock piles must be located outside of the flood plains which is more of a problem for the south dam than the north dam.
Goedken says the city has already paid $4,000 this year to have the dams restored to their current state but the total cost to return the dams to proper size is unknown. The city allocates $3,000 a year specifically for these dams to be maintained. The city administrator says he believes they haven't had to use this money for about seven years. The actual cost of the project is currently unknown due to the city not knowing what work will need to be done. If rock needs to be hauled it will cost more but Goedken has no exact numbers. "All depends on what they're going to make us do."
The city is working with the DNR to figure out the solution to the current issue. Goedken says the city is also considering enhancements for the dams to make the fishing environment better for the residents at Humboldt.
Further updates will be provided once details are made available to KHBT.