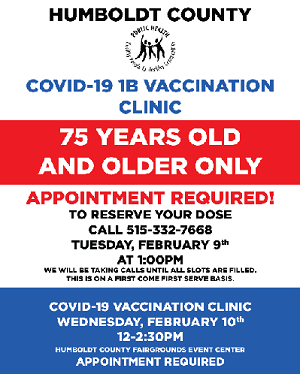 By: Donovan W. Mann – donovanm@977thebolt.com
Humboldt, IA – Humboldt County Memorial Hospital is holding another COVID-19 vaccination clinic.
Announced through a joint release from CEO Michelle Sleiter and Humboldt County Public Health Director Joleen Sernett the clinic will be similar to the one February 3.
On Friday, Feb. 5, the county received confirmation of an additional 100 doses of the vaccine arriving at the beginning of this week. This will allow them to hold their second vaccine clinic for those 75 years of age and older on Wednesday, Feb. 10.
Like the week before the local health department will be operating the clinic by appointment only. Humboldt County residents who are eligible can begin calling to secure their vaccine on Tuesday, Feb. 9 at 1 pm.
The appointments will be on first come first serve basis. If an appointment is secured so is a vaccine. If an appointment is not made but an individual still shows up to the fair grounds on Wednesday they will be turned away.
During the first clinic 227 individuals were vaccinated. The team at HCMH thanks the community for their ongoing patience and support during the process.
An appointment for the second vaccination clinic can be made by calling (515)332-7668 starting Tuesday, Feb. 9 at 1 pm.