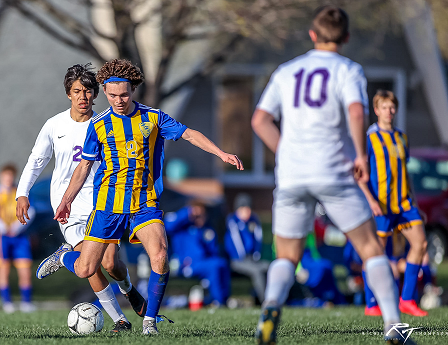 By: Donovan W. Mann – [email protected]
Humboldt, IA – Humboldt High School boys' soccer gets their second win of the season by out lasting Webster City in overtime 2-1.
On Monday, April 12, the Wildcats hosted Webster City in a North Central Conference rivalry match. Coming into the match Humboldt was 1-1 and Webster City was 3-2.
Humboldt got the scoring started in the first half as Max Mason scored off an assist from James Gould. This was Mason's second goal of the season. Humboldt would hold the 1-0 lead at halftime.
Webster City responded in the second half to get an equalizer off the foot of Luis Montes. The score would stay tied at 1-1 the end of 80 minutes regulation.
In overtime, once again Gould would connect with Mason to get the game winning goal and end it 2-1.
With the win Humboldt boys' soccer is now 2-1. Their next match will be on Monday, April 19, at Webster City. Match time is scheduled for 5:30 pm.
Featured photo courtesy of Rick Thompson.