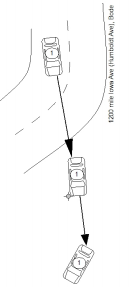 By: Donovan W. Mann – donovanm@977thebolt.com
Bode, IA – No injuries reported following an extended investigation into a single vehicle incident involving a utility pole.
Chief Deputy Corey Lampe of the Humboldt County Sheriff's Office files the report on the incident. His report says the date of the incident was Friday, March 19th, during the early morning on Iowa Avenue where a vehicle had failed to negotiate a right curve and struck a utility pole near Bode. The drive had left the scene but a small fire was started by the pole that was later reported by a passing motorist
According to the report the rear bumper of a green Chevrolet Lumina was left at the scene with a license plate which revealed the vehicle was registered to Dawn Rasmussen, 50, of Bode. The report says initially the owner refused to cooperate with law enforcement.
On Thursday, March 25, Chief Deputy Lampe was able to get a hold of Rasmussen over the phone where she admitted to being the driver. She told him that she fled the scene because she did not have insurance on the vehicle and advised she was alone at the time of the incident.
No injuries were reported as a result of the incident. Two citations were issued ("failure to maintain control" and "failure to provide security against liability").