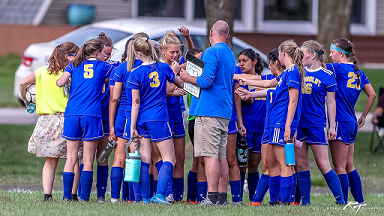 By: Donovan W. Mann – donovanm@977thebolt.com
Iowa Falls, IA – On Wednesday, May 26, Humboldt High School girls' soccer traveled to Cadet Field and fell to Iowa Falls-Alden 4-1 in the quarterfinals for Class 1A Region 4.
The game started out evenly matched between the Wildcats and IFA. The scoreless tie would get broken in the 19th minutes by Iowa Falls-Aldens' Abigail Ites chipping a shot just over the reach of Humboldt Goalie Maria Elizondo.
Ites would score her second goal in the 34th minute during a scramble in Humboldt's box. The halftime lead for the hosting Cadets would be 2-0.
IFA's Addy Gillespie would add to the lead in the 56th minute on a break away chance the slipped past the Humboldt goalie. Wildcat Lauren Murray would get one back for Humboldt in the 67th minute. The lead was extend back to three two minutes later by Emma Olberding.
Humboldt reports taking 14 shots, seven of them being on goal. Murray's goal was unassisted.
Elizondo is credited with eleven saves while playing all 80 minutes in goal for the Wildcats.
The loss will bring Humboldt's season to a close with a 5-13 record. Lauren Murray was named Player of the Game by KHBT as part of the broadcast coverage.