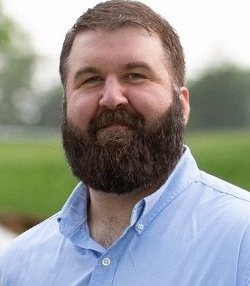 By: Donovan W. Mann – donovanm@977thebolt.com
Humboldt, IA – Humboldt's City Administrator Travis Goedken is a finalist for the position of city manager in Decorah.
On Monday, July 5, the city in northeast Iowa released a list of four finalists for their open city manager position. Humboldt's current administrator of six years was among them.
Goedken says that the idea of moving Decorah is not a strange concept to him or his family. "This is a community that, honestly, has been on my and my wife's radar for a long time." The city administrator says that he has even joked with council in the past about Decorah being a place that could cause him to leave.
Goedken and his wife have visited Decorah multiple times and is a place they really enjoy. He says they recently took a family vacation there that was planned before he knew of the opening.
Goedken is from the eastern part of the state and says that is a big reason why he sees Decorah as a place he'd like to be. "Primarily it cuts down that distance from our extended family." From Humboldt, the travel time to his and his wife's parents is about three and a half hours.
This makes it difficult for his young children to see their grandparents he says. The travel time would get cut down by about two hours if he gets the position in Decorah and they choose to move.
The city administrator says that his applying to Decorah is not about running away from Humboldt and the decision to even apply was a difficult one. "You know, I didn't even hit submit until the day before the deadline because we had a lot of discussions, a lot of pros and cons discussions."
Goedken says they have friendships in the community that they considered. He says the mayor and city council is "phenomenal" to work for and that the staff is "amazing." He continues to say that in recent history the community has achieve a number of great things he is proud to be a part of.
The other three finalists for the city manager position in Decorah include and Economic Development Manager from Johnston, Iowa, Adam Plagge, Caledonia, Minnesota, City Administrator Adam Swan and West Branch, Iowa, City Administrator Redmond Jones II.
The final interview process will take place on Friday, July 9 and Saturday, July 10. The candidates are expected to find out later that weekend and official approval by Decorah's council will take place July 19.