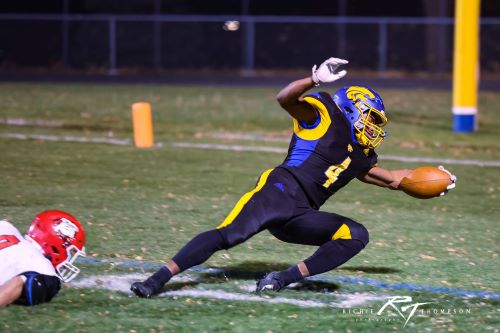 By: Matt Scher, [email protected]
Humboldt, IA – The Humboldt Wildcats won their first round playoff matchup against the Hampton-Dumont-CAL Bulldogs 39-0 Friday night in front of their home fans at Mason Maach Field.
The Cats got things rolling in the first quarter, with an 8-yard rushing touchdown by quarterback Will Orness (Sr.) to take a 7-0 lead at the 4:47 mark in the first quarter of play. The Cats would continue in the second quarter, finding the end zone again with running back Lance Coon (Jr.) from 2 yards out for the second score of the game to make it 13-0 Humboldt with 8:29 remaining in the first half. Two minutes later, Orness would find the end zone with his legs again, this time from 4 yards out to make it 20-0 Humboldt. Coon would find the end zone again at the 3:42 mark for 11 yards to add to the Humboldt lead to increase the score to 27-0 with 3:42 remaining in the second quarter. Humboldt would score as time expired in the first half when Orness found Trever Beach (Sr.) for a 3-yard aerial connection to take a 33-0 lead into the locker room at the half. The Cats would score one final time in the third quarter as Coon found the end zone from 14 yards out to give the cats a 39-0 lead and the eventually victory with the running clock.
Leading the way for the Humboldt Wildcats were Orness, who was 6 of 8 passing for 101 yards and a touchdown, while also adding 15 carries for 76 yards and 2 rushing touchdowns. Coon led the ground attack with 18 carries for 166 yards and four rushing touchdowns, giving him 20 rushing touchdowns on the season. Defensively, Ty Gargano (Sr.) led the team with nine tackles and a sack, with Corey Dettman (Sr.) recording an interception.
With the win, The Cats advance to the Class 3A Quarterfinal game where they will host a rematch of last year's quarterfinal against Independence after the Mustangs edged the Benton Bobcats 20-17. The winner of next Friday's matchup at Mason Maach field will advance to the Class 3A Semifinal at the UNI-Dome.