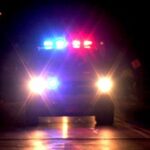 By: Matt Scher, [email protected]
Fort Dodge, IA – On Saturday Oct. 29, at approximately 8:59 a.m., the Webster County Telecommunications Center received a call from a person stating that they had located two unresponsive subjects inside the residence located at 226 N 13th St in Fort Dodge. Officers with the Fort Dodge Police Department as well as Fort Dodge Fire responded to the scene.
When Officers arrived on scene it was determined that both subjects were deceased. Investigators were called to the scene as well as the Webster County Medical Examiner. The cause of death is unknown. The names of both subjects are not being released at this time pending notification of family. The bodies will be transported to the State Medical Examiners to determine the cause of death.
At this time investigators with the Criminal Investigations Division are continuing to follow up on this incident. Anyone with information on this incident is encouraged to contact the Fort Dodge Police. Information may also be submitted anonymously via Crime Stoppers. The Fort Dodge Police Department was assisted on scene by the Webster County Sheriff's Office, the Iowa State Patrol, the Iowa Division of Criminal Investigations, the Webster County Attorney's Office, the Fort Dodge Fire Department, and the Webster Medical Examiner's office.