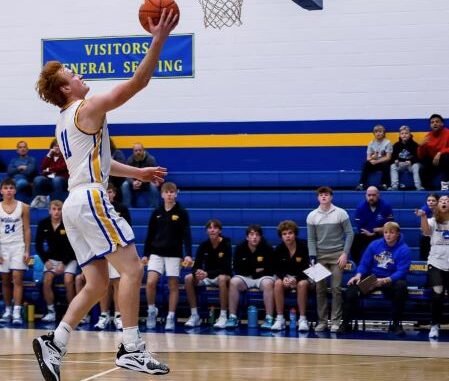 By: Matt Scher, [email protected]
Humboldt, IA – The first game of the season for Humboldt Boys Basketball took place last night at the Humboldt High School gymnasium as the Cats knocked off the Spirit Lake Indians 83-77.
The Cats took the floor for the first time in 272 days and right out of the gate jumped out to a big lead. Humboldt led the majority of the game by double figures before a Spirit Lake comeback in the fourth quarter of play which saw the Indians lead by as much as 5 points. The Cats would tie things up and trade scores with Spirit Lake down the stretch, eventually taking the the lead for good late in the fourth quarter to win their first game of the season.
Leading the way for Humboldt was Will Orness (Sr.), who scored a career high in points with 33. Josh Thurm (Sr.) had 18 in the season opener with Elliott Carlson (So.) registering 17 points. With the win, the Cats are 1-0 on the young season.