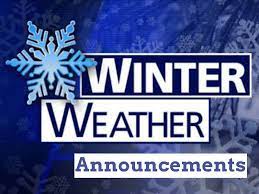 By: Matt Scher, [email protected]
Humboldt, IA – Area businesses and schools have made the following announcements today in anticipation of the impending winter weather.
For everyone's safety in preparation for the winter storm warning Saturday, Humboldt Schools have postponed tomorrow's dance team night and youth clinic to Friday, Feb. 17.
Due to weather, Varsity Boy's Wrestling for tomorrow, Saturday, Jan. 28 at South Central Calhoun has been postponed to Saturday, Feb. 4.
Weather related – Humboldt Middle School boys and girls wrestling at Emmetsburg has been canceled for tomorrow, as well as middle school band at South Hamilton.
From the Humboldt County Sheriff's Department: Snow emergency for the City of Humboldt. No on-street parking effective Saturday, Jan. 28 at 2:00 p.m. through 12:00 p.m. Sunday, Jan. 29. No on-street parking.