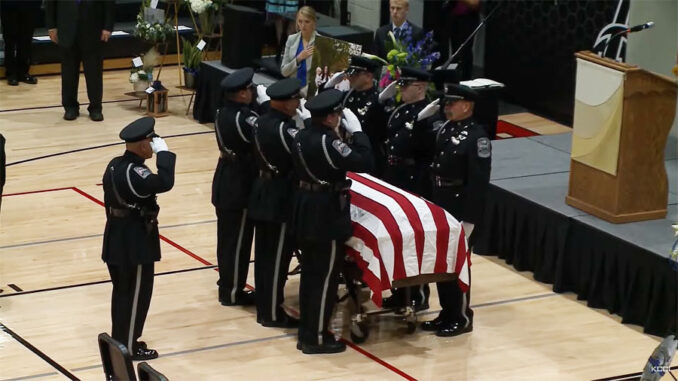 (Radio Iowa) – Slain Algona police officer Keven Cram was remembered today as hundreds of family, friends, and law officers gathered in the Algona High School gym. Algona Police Chief Bo Miller says Cram was a man who cared about a life of service.
"In these past few days, telling stories and hearing stories, almost every story about Kevin was talking about him always giving, he always gave, and barely ever receiving anything. That's who Kevin Cram was, a great man," Miller says. He says the 33-year-old Cram could be described as the perfect officer.
"When he received a call at work. No one ever had to worry about it," he says. "You knew he was going to handle that with compassion. And he was going to handle it with professionalism. Every time. He took so much pride in his work." Away from the job, Miller says Cram cared so much for his family.
"He loved bringing his kids fishing, hunting, and just doing anything he could do to be outside with them," Miller says. "Farming, working on tractors with his family. Kevin had a passion for guns old and new. And man, he was proud of his chickens." He says Cram would always talk about his Iowa blue chickens and sent him multiple articles on them. Miller says Cram had a sense of humor and started a running joke that he would eat road kill animals. Miller recalled finding a dead raccoon on the road and sending Cram a picture to ask him if he wanted it.
"I swear to you, it was less than five seconds. And that I had a message back for raccoon stew. And I just remember like, there is no way he had time to look that up that had to be saved on his phone," Miller says. Miller also had a message for the officers attending the funeral.
"There have been so many conversations that we have all had and are happening around this country every day talking about how right now is the worst time to be in law enforcement," Miller says.
"I do not believe that to be true. Right now is the most important time in law enforcement in this country. Law enforcement must stand hand in hand and be stronger now more than ever."
The funeral ended with the final call for Cram from the dispatcher using his badge number.
"There is no answer from 55-18. Algona police officer Kevin Cram, went 42 for the last time on September 13th 2023. Officer Cram, your brothers and sisters in law enforcement will forever watch over your family."
There was a private graveside service for Cram following the public funeral. The man accused of shooting and killing Cram last Wednesday night as he served an arrest warrant remains in jail awaiting extradition from Minnesota.