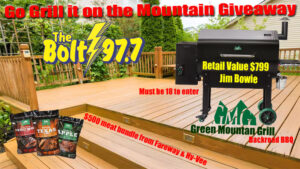 The "Go Grill It on the Mountain" Giveaway is a Jim Bowie – Green Mountain Grill from Backroad BBQ, three bags of pellets, $250 worth of meat from Fareway, and $250 worth of meat from Hy-Vee.
Qualify for you chance to win by registering at each live broadcast we do this summer at a specified location and sign up, it is that easy. Just listen to the Bolt to learn where we will be for you chance to win.  KHBT will draw 5 names from our registration box. You will be notified from KHBT if you are the qualifier. We will list them below as we get them.
All qualifiers will be then be in our Putting Contest to be held at the Humboldt County Fair in the South Event Center building on Saturday July, 24th with check in at 10am. Qualifiers must be present to win and original qualifiers may not substitute in their absence. All decisions by KHBT management are final. KHBT will provide a right and left-handed putter. Hand sanitizer will be provided; and all putters will be sanitized after each use to keep all safe.
Feather Your Nest For Less – June 1st  – 4pm-6pm
Qualifiers
Rachel Stockdale – Emily Abbas – Christine Buenting – Michelle Sandven – Beth Cox
Valerie Thompson – Lexi Davis – Deb Peterson – Andrew Flurey – Brad Duffy
The Rusty Rooster – July 3rd – 11am – 1pm
Connie Wurn – Tracy Holm – Ben Collins – Jill Kampen – Sherry Carlson
Melissa Collins – Molly Peaton – Ron Blomker – Jayne Cassidy – Larry Johnson
Midwest Medical – July 13th – 4pm-6pm
Delta Guns – Tom Fisher – Steve Gold – Shannon Hannigan – Vicki Holden
Jen Kirchoff – Dylan Applegate – Paula Skow – Courtney Palmer – Kelsey Olson
716 Main – July 16th – 4pm – 6pm
Stephanie Albright – Jennifer Satern – Tate Satern – Nicki Kuehnast – Tom Wilson
Gary Kuehnast – Greg Vik – James Landolt – Travis Renken – Calli McClintock
Humboldt Mutual Insurance – July 20th
Please note:   This list is currently in-progress