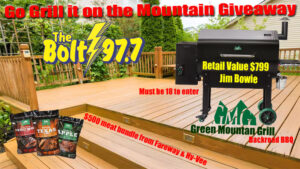 The "Go Grill It on the Mountain" Giveaway is a Jim Bowie – Green Mountain Grill from Backroad BBQ, three bags of pellets, $250 worth of meat from Fareway, and $250 worth of meat from Hy-Vee.
Qualifying ended on August 21st, 2020. Prizes will be given away on August 29th, 2020, at the Rusty Rooster in Dakota City, Iowa. Check in at 10 A.M. and qualifiers will be required to participate in a putting contest. Qualifiers must be present to win and original qualifiers may not substitute in their absence. All decisions by KHBT management are final. KHBT will provide a right and left-handed putter. Hand sanitizer will be provided; and all putters will be sanitized after each use to keep all safe.
Thank you to our "Business of the Week" sponsors!
Dean's Auto Sales – June 22nd – June 26th
Miller's Landing – June 29th – July 3rd
 Dent Master – July 6th – July 10th
Christ Furniture – July 13th – July 17th
Hjelmeland Flooring – July 20th – July 24th
Carbon Boutique – July 27th – July 31st
Rusty Rooster – August 3rd – August 7th
John's NAPA – August 10th – August 14th
Northland Auto – August 17th – August 21st
Qualifiers
Angela Harms – Mike Brightly
Janice Gafford – Kelly Nostrom
Lee Inman – Brad Duffy
Barb Sampson – Mike Brightly, Jr.
Tammi Parle – Jim Crabtree
Sylvia Milledge – Jason Hubbell
Roger Carlson – Craig Steenhard
Shirley Crotty – Elizabeth Jones
Doug Davis – Susan Rutz
Denny Williams – Connie Ruiter
Kathy Smith – Dale Coleman
 Deb Erpelding – Kody Wagner
Gabe Numedahl – David Powell
Sue Ringleb – Kent Johnson
Patty Carroll – Doug Anderson
Dave Meterman – Derek Schulze
George Hubbell – Nick Golz
Shirley Carlson – Sherry Kunert
Marlys K. Johnson – Courtney Sampson
Mike Bohan – Brett Erickson
James Conway – Katie Hinkel
Missy Ubben – Carl Steil
Pat Hill – Lyle Gronbach
Alexis Lathrop – Todd Smith
Macy Becker – Lorna Naeve
Megan Stowell – Kathy Eck
Shawn Benz – Nancy Inman
Lance Fischer – Lexi Davis
Delta Dawn Guns – Joe Albright
Payton Vote – Carol Wadsley
Marcus Inman – Sheryl Tegtmeyer
Troy Hall – Barbara Hamilton Wiuff
Emma McLean –
Please note: All qualifiers will be contacted by KHBT to confirm involvement in the putting contest. No substitutions. Must be 18 years of age or older and be able to attend the event on Saturday, August 29th at the Rusty Rooster in Dakota City. This list is currently in-progress as contestants are being contacted.