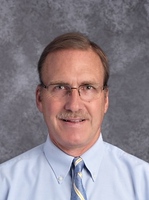 By: Donovan W. Mann – donovanm@977thebolt.com
Humboldt, IA – Humboldt Schools Superintendent Greg Darling will continue to be on paid leave until the end of June.
On Friday, January 31st, the Humboldt Community School Board of Education held a special meeting to discuss and motion the continued paid leave of Darling.
In an official public statement issued by Board President Tate Satern, he states "following the review of the initial stages of the investigation, the board in consultation with Greg Darling has determined to extent the administrative leave with pay for our Superintendent Greg Darling through June 30th, 2020, which is the date of his accepted early retirement and resignation."
Satern also says that "The board is dedicated to our children, parents, community, administration, teachers and staff in moving forward providing our school district with exceptional leadership for generations to come. We will immediately begin the hiring process and anticipate having an Interim Superintendent in place very soon. We appreciate the community support and look forward to an amazing future with the Humboldt Community Schools."
The board unanimously approved the appointment of Jeff Herzberg as Interim Superintendent, January 21st through February 14th.
The district will move forward immediately to hire the next Interim Superintendent.