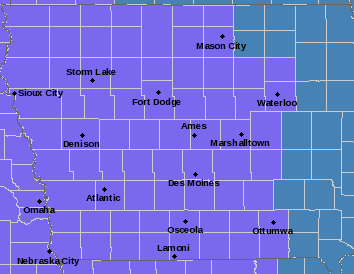 By: Donovan Mann -donovanm@977thebolt.com
Humboldt, IA – A winter storm is set to sweep across the state this weekend.
The Des Moines National Weather Service has produced a weather briefing concerning a winter storm that is forecast to bring moderate to heavy snowfall across most of Iowa this Friday.
Humboldt and the surrounding areas are expected to receive 4 to 6 inches of snow on Friday while the southern portions of the state are only looking at the possibility of 3 to 4 inches. High gusts of winds around 40 mile per hour expected making visibility low and causing snow drifts.
The Des Moines National Weather Service says there are possibilities in the storm shifting slightly causing a changing in the amount of expected snow.
Dangerous cold is expecting to follow the storm Saturday night into Sunday Morning. Be sure to check weather reports and road conditions before heading out this weekend.
For more information or to track the storm go to http://www.weather.gov/dmx/dsswinter