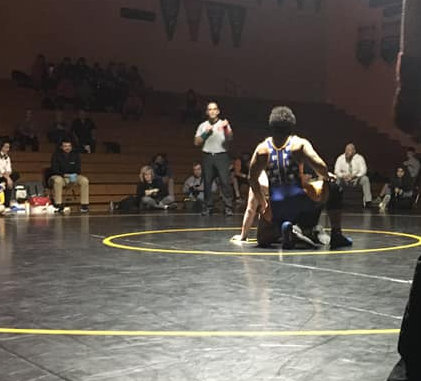 Atlantic, IA – Humboldt Wrestling advances to state after dramatic conclusion to regional duals.
On Tuesday, Feb. 11, Humboldt High School Wrestling traveled to Atlantic for the regional team duals. Humboldt was one of four schools present for the tournament. The other three were Atlantic, the hosts, Van Meter and Red Oak.
In the first round Humboldt was able to secure an easy victory against Van Meter, 45 -30 final score. The dual started at the 220 weight class and Wildcat's Colton Goodell was able to pick up the quick pin. In the first four matches the Wildcats picked up three pins to build a lead that Van Meter was never able to overcome. In the end Walt DeLanoit did not wrestle in the first dual at 195 as the Wildcats had already secured the win.
In the second round dual it was a tightly fought contest with the host, Atlantic. The Wildcats lost the opening match, the heavy weight, and Atlantic was able to lead for most of the dual. The Wildcats found themselves down 29-21 going into the last three matches. Logan Nilles was able to get a five point tech fall, Walt DeLanoit won by decision to tie the dual at 29 each.
The final match was the 220 class, Colton Goodell for Humboldt versus Noah Vandevanter of Atlantic. After a back and forth first period and a chippy second period Goodell was able to build a stable lead for the third period. It was in the third period that Goodell put the final exclamation point on comeback with a pin at the 1:43 mark to secure the 35-29 dual win.
As a team the Wildcats will advance to state duals on Wednesday, Feb. 19. 7 Wildcats will also have districts wrestling for individual postseasons on Saturday, Feb 15.