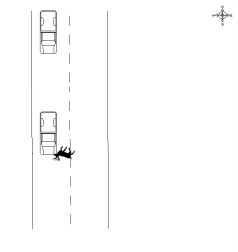 By: Donovan W. Mann – donovanm@977thebolt.com
Humboldt County, IA – No injuries reported after a pickup truck hits a deer in a Wednesday evening incident.
Deputy Kenneth Vorland of the Humboldt County Sheriff's Office reports that on Wednesday, March 18, Russell Drake, 23, of Livermore was travelling southbound on K Road when a deer ran across his path. The action caused Drake to hit the deer with his red Ford F150.
The incident resulted in damages to Drake's F150. He did not report injury to Deputy Vorland at the time of the incident. No citations were given at the time of the incident.