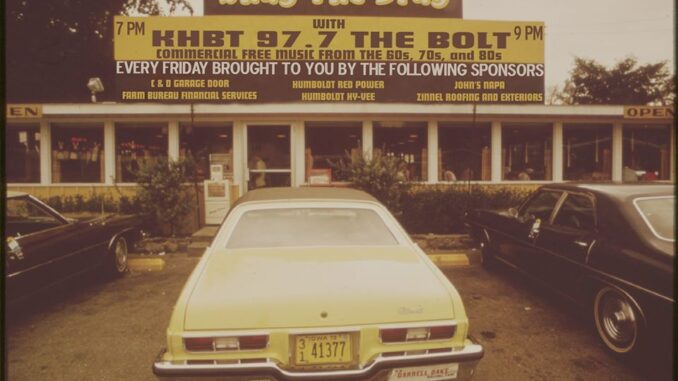 By: Donovan W. Mann – donovanm@977thebolt.com
Humboldt, IA – Local radio station encouraging everyone to turn back the clock and participate in throwback cruise through downtown Humboldt.
Shag the drag is a class term used to describe a cruise down a main street or central avenue with windows down, singling along to the radio with a group of friend. Now Humboldt Downtown will be shagging the drag this Friday and KHBT will be providing two hours of commercial free classic hits from the 60's, 70's and 80's.
KHBT Owner and General Manager Kathi Kolar says that Shag the Drag is a way to have fun while still maintaining social distancing. "Have fun and listen to good music that we listened to when we used to shag the drag or scoop the loop" she says.
She says that KHBT will be taking requests from listeners leading up to the event so they can know what the people want to hear. Requests can  be emailed to 977thebolt.com. People can also send requests by Messaging 97.7 the Bolt on Facebook.
Shag the Drag is an evening dedicated to fun and throwing it back with classic music while maintain social distancing. KHBT wants to be your music partner as you cruise through Downtown Humboldt.