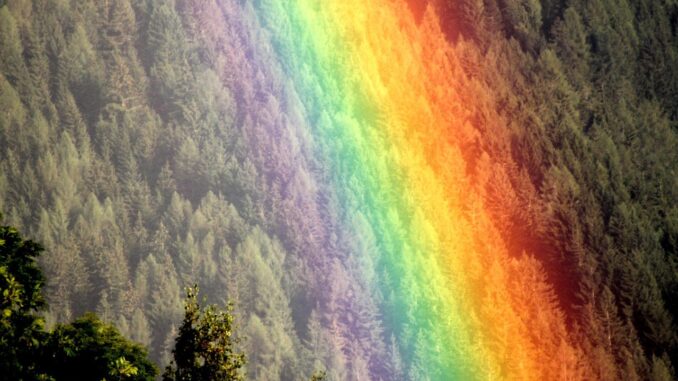 By: Donovan W. Mann – donovanm@977thebolt.com
Spencer, IA – Facebook group and growing trend created by Northwest Iowa mother is a fun activity for children to do while maintaining the practice of social distancing.
On March 19 a group was created on Facebook called Northwest Iowa Rainbow Hunts for Kids by Rachel Meyer. Quickly the group turned to a trend across all 50 states and began to spread internationally and was renamed Rainbow Hunts for Kids.
Meyer says the idea was inspired from an out of town post and because her daughter was missing her friends. "I thought well we can do a rainbow hunt around here" she says. She proceeded to put together a quick page on Facebook. The hope was to get 25 area families to join in.
She says that the second day it was already starting to spread beyond her expectations. This was when Meyer decided to change the name of the group. "Then it just started spreading like wildfire. People took the idea and just ran with it" she says.
The quick and large spread of Rainbow Hunt for Kids was something Meyer says she never could have seen coming. "Not even in my wildest dreams" she says. 25 families was a goal for her but a number she was excited about. However, the page quickly grew beyond 20,000 people and keeps growing.
Meyer says that the goal for the group now that grew much larger than originally intended remains the same as when it was meant as a simple local activity. "Just to help people connect in a time when we can't have contact" she says and comments that it is hard on children. "It's scary for them, their seeing scary stuff on the news" she comments while saying she wants families to have something fun to do while giving kids a way to connect with their friends.
Meyer finishes by encouraging everyone to come and join the fun of Rainbow Hunting. The Facebook group is public and she says there is a new project that is posted every week for families to enjoy. She says that the group will continue to post projects as long as there is a new for social distancing.
Rainbow Hunt for Kids was started on March 19 and the group has continued to grow while encouraging children and families to be creative, active and social during the trying and uncertain times currently going on in the world.