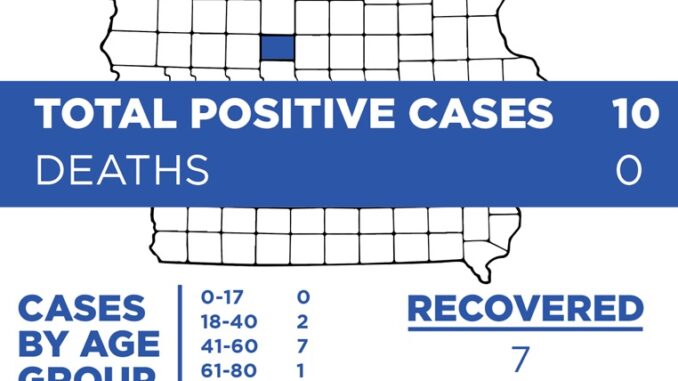 By: Donovan W. Mann – donovanm@977thebolt.com
Humboldt, IA – Local health officials have confirmed multiple new cases of COVID-19 in the county.
On Thursday, May 21 The Iowa Department of Public Health (IDPH) and Humboldt County Public Health have identified three additional cases of COVID-19 in Humboldt County. Two Humboldt County residents are in the 41-60 age group and one is in the 61-80 age group. There are 10 total cases of the virus in the county with seven confirmed as recoveries.
Humboldt County Public Health reminds everyone that with the rise of case counts and business opening it is important to follow guidelines set forth by the IDPH. Other preventative measures people can take to help reduce and prevent spread of COVID-19 include:
Stay home if you're sick
Practice social distancing
Wear a face covering when you cannot practice social distancing
Avoid community gatherings
Wash your hands
Be respectful of others, especially the most vulnerable
Most importantly, now is the time to stay calm and be informed
Public Health reminds everyone that these simple steps are making a difference.