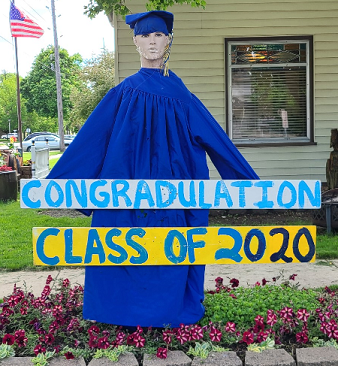 By: Donovan W. Mann – donovanm@977thebolt.com
Humboldt, IA – A local company is finding a new way to honor the graduating class at Humboldt High School with individual banners
While COVID-19 has caused the Humboldt High School class of 2020 to lose a lot of the traditional experiences that come with the final year of high school, the community continues to find ways to help honor the class. This includes hanging banners with the picture of each senior at Humboldt High School.
Owner of Terry and Bob's Sign Co., Bob Rasmussen says the idea to do something special for the seniors came back in April. He says that he was in his office one day when he figured it would be a great idea to do something for the class. He told his wife that his idea was to put up banners for each senior. Walt Jensen from Jensen Trailers helped make the banner polls for Rasmussen.
Rasmussen says that other businesses helped cover the cost to put up the banners. "I just started calling people to kind of help pay for things and the businesses," he says. He confirms there were quite a few individuals who help contribute to the banners and polls. "It worked out really, really well for people to donate money for the City of Humboldt."
Rasmussen "highly recommends Shag the Drag down 5th Street." He says  it will be a great opportunity for the community to see the banners. He says they look nice and he hopes the seniors really like them.
Rasmussen says that when the banners are taken down, they will be given to the seniors free of charge.
Here are some pictures of the banners going up along 5th Street: