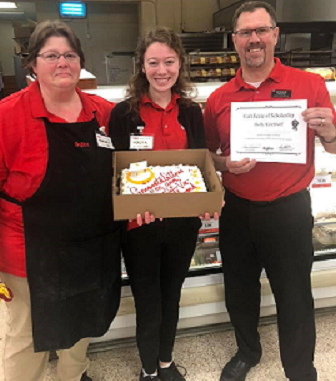 By: Donovan W. Mann – donovanm@977thebolt.com
Humboldt, IA – An employee from the local Hy-Vee receives a scholarship from the company as she prepares for the next chapter of her life.
Every year Hy-Vee incorporated gives scholarships to some of their young workers to help assist with their college finances. This year Humboldt Hy-Vee's own Holly Kirchhoff was selected as one of 50 recipients of a $1,000 scholarship from the company. Her initial reaction to be selected for this scholarship was one of surprise.
"I was shocked when they told me I had received the award" she says. Of all the high school students who work for Hy-Vee across the state, Kirchhoff thinks it's really cool to be selected as a recipient. She also calls it an honor and that it's great to see Hy-Vee help supporting their young employees as they advance to college.
When asked about the application process, she says it included sharing a story about how Hy-Vee has impacted her life as an employee. "I wrote about this time at Christmas time when this customer was being so nice" Kirchhoff shares. "They said that my name actually related to the Christmas spirit since it was 'Holly' and I just thought was a very cool experience."
Kirchhoff would like to thank everyone at Humboldt Hy-Vee and the community who have been very supportive. "I would just like to thank Humboldt Hy-Vee in general" she says. When she first started, Kirchhoff shares that she was doing more produce but since been moved to do more work with online shopping and other departments of the store. "This is such a great community to work in" she comments on how everyone is supportive.
Holly Kirchhoff plans to attend Iowa State University starting in the fall to major in music education. She says this scholarship will be helpful in covering tuition costs and thanks all who have helped her along the way.
Featured photo courtesy of the Humboldt Hy-Vee Facebook page.