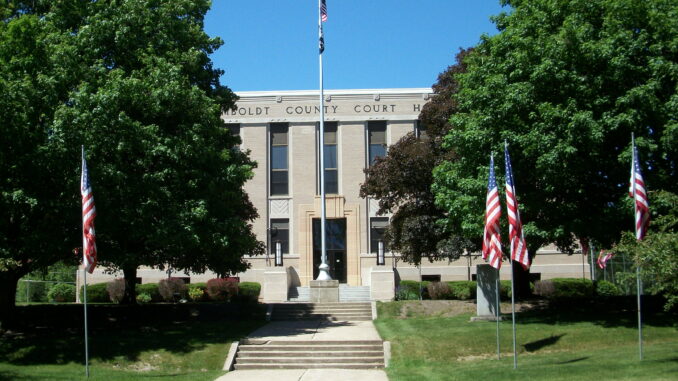 By: Donovan W. Mann – donovanm@977thebolt.com
Dakota City, IA – The in-person absentee voting procedure is different for the June primary elections in Humboldt County to help maintain social distancing standards.
The in person absentee voting period for the 2020 Iowa primary election is open. However, due to the COVID-19 pandemic the procedure will be different than elections past. County Auditor Peggy Rice helps provide information on what people need to know.
In person absentee voting will still be at the court house according to Rice. It will be offered during regular business hours until 4:30 pm on June 1. However, instead of entering the courthouse to cast the ballot there will be specified parking spots to do the voting from.
Once parked, voters are asked to call and verify their information with the auditor's office. Voters will be asked if they already filled out an absentee ballot form. If they do not have the form and did not receive one from the secretary of state they will be provided one to fill out. Voters will stay in their car as someone from the office comes to them.
Rice says that her staff will be taking measures beyond masks and gloves to assure the safety of voters and the staff. Voters are being asked to bring their own ink pen to fill out the ballot. If they don't one will be provided but is not to be returned. A ballot will be brought to the voter once their information is verified. Once the ballot is filled out the voter will seal it themselves and put in into a portable ballot box and returned to the auditor's office. Throughout the whole process voters will stay in the comfort and safety of their car.
In person absentee ballots can be cast up to 4:30 pm on June 1. On June 2, the day of the elections, there will be two polling locations in the county for those wishing to vote in person.