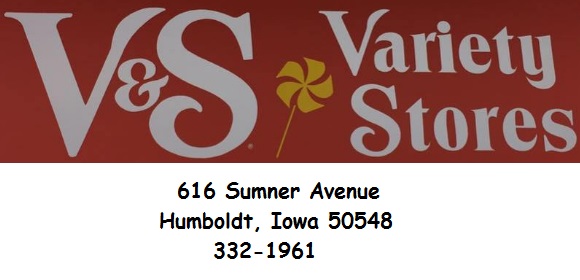 By: Donovan W. Mann – donovanm@977thebolt.com
Full interview with Joyce and Jim Crabtree:
Humboldt, IA – Owners of a local downtown business talk commitment and resilience as they celebrate 35 years of operations.
V & S Variety is celebrating 35 years of ownership. Since 1985 the local shop has been owned and operated by Jim and Joyce Crabtree. While the couple has faced their share of challenges over the course of the ownership they continue to be dedicated to the store and providing the best possible service to everyone who walks in.
Joyce Crabtree says the two are "survivors" because of everything the store and they have gone through. She highlights that the store has survived two downtown construction projects, a complete remodel and their roof falling in. The store continues to operate during the COVID-19 pandemic, being deemed an essential business that keeps them from closing. Joyce herself is also a cancer survivor. She assures the couple plans to continue until they can no longer run the store.
She says that there is a lot of meaning to being able to help a customer who comes looking for something in their store. Crabtree says often time people will come to their store after looking in a lot of other places out of town and that usually V & S Variety will have it when other stores don't. She encourages everyone to come to them first. "It's just a really good feeling to be able to help somebody find something that they want."
Jim Crabtree says that being able to operate a business this long is about commitment. He says businesses like V & S Variety and other small mom and pop variety store started with one simple goal in mind, to serve their community. He says that a lot newer retail lacks the commitment. "I think anyone who takes over our retail business has to be dedicated to the hours" he says.
V & S Variety has been owned by the Crabtrees since June 1, 1985. The two were close to buying a store in Knoxville, Iowa but ended up in Humboldt after their banker was willing to take a chance on them. When they bought the store it was a Ben Franklin store but the Crabtrees chose to immediately change suppliers and name due to financial trouble at Ben Franklin. When they first started the store had eight employees but today it is just Jim and Joyce who work in the store.  While they have considered retirement in the past the two plan to operate the store for as long as they are able.
Joyce Crabtree has worked retail for the majority of her life. Her father used to own a similar store and she started working for him at a young age. Jim Crabtree has worked in retail as well as insurance and construction.
As part of their 35 anniversary, V & S Variety will be holding a celebration throughout the rest of the week. Customers can register to win door prizes and will receive 35% off one item in the store.
V & S Variety in downtown Humboldt is celebrating 35 years of ownership under Jim and Joyce Crabtree thanks to their dedication and resilience.