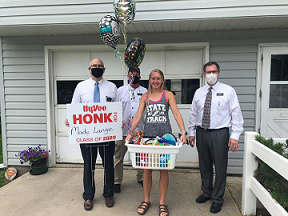 By: Donovan W. Mann – donovanm@977thebolt.com
Humboldt, IA – A local high school graduate is receiving a gift from Hy-Vee as a winner of their Surprise Graduation Giveaway Sweepstakes.
The Hy-Vee is surprising a local graduate with a gift delivered via a contactless method. Throughout the recent month, Hy-Vee has been honor high school graduates with gifts across their eight state region. Among these deliveries were to Humboldt High School graduate Mady Lange.
As the winner of Hy-Vee's Surprise Graduation Giveaway Sweepstakes, employees from Humboldt Hy-Vee delivered gifts to Lange. The gift included balloons and a custom designed bakery item. She also received an array of pantry, household and general merchandise item.
Hy-Vee's Surprise Graduation Giveaway Sweepstakes ran from May 18-24. During the contest nearly 6,000 high school graduates were nominated by friends, families, school district staff and community members. Lange was one of nearly 150 winners randomly selected as a winner across the communities Hy-Vee serves.
This giveaway is just one of many ways Hy-Vee is finding way to honor local graduates in the class of 2020.