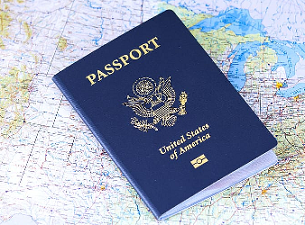 By: Donovan W. Mann – donovanm@977thebolt.com
Dakota City, IA – Local officials are warning those looking to apply for passports to get the process started in advance with processing backups causing delays.
There is currently a delay in the process to receive a pass port. While the process to apply for and then receive a pass port has not changed, those looking to acquire one for upcoming travel will need to play for possible delays in process. Humboldt County Auditor Peggy Rice shares some of the details when applying for a passport.
Rice confirms that the actual process to apply for a passport is still the same. She says that someone looking to receive one can come to the auditor's office and receive an application. An application can either be filled in at the office or be taken home to complete at the applicants convenience. Rice does say that "it's when we send it in that we're not sure of the time frame."
The county auditor says the federal agency that handles all the processing is backed up, resulting in delays. She says that the county office is not given a deadline or date in which the applicants can expect to receive their passport because of the backups. She encourages anyone looking to travel to apply for their passport "as soon as possible" otherwise they may not receive it in time.
When going to apply for a passport, Rice says there is a few things people will need to bring to complete the application. Applicants will need to bring a valid ID and their official birth certificate. There is also a few associated with applying for a passport so Rice advises the applicants bring their check book. If an applicant takes their application home the auditor says the application needs to come in unsigned so they can be witness to the signing. Applicants must also bring a passport photo since the auditor's office is unequipped to do those in office.
The Humboldt County Auditor's Office is doing passports during their normal passport hours of Tuesday through Thursday from 8 am to 4 pm. The auditor also reminds those wishing to travel to be sure to check travel restrictions before planning a trip and applying for a passport.