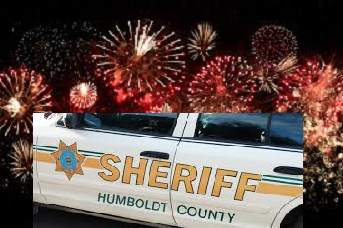 By: Donovan W. Mann – donovanm@977thebolt.com
Humboldt, IA –  Local law enforcement reminds the community to celebrate the coming holiday responsibly.
The 4th of July is coming this weekend on Saturday. With this will come celebratory fireworks and alcohol consumption. Humboldt County Sheriff Dean Kruger provides some advice for those celebrating the holiday with fireworks and alcohol.
Kruger first remind those planning to launch fireworks to check their city code to make sure it is legal. He says that there are some cities in Humboldt County that do not allow fireworks to be launched. There are also cities that have certain times in which the launching of fireworks is legal for citizens. He encourage those wishing to use fireworks on the fourth to check with a city official because the sheriff's office will respond to any call they get.
And on the topic of fireworks the county sheriff reminds everyone to practice proper firework safety. "Once again, you know, fireworks and drinking don't mix very well" he says noting that "usually something bad happens out of that when it happens." Kruger also reminds people that children launching fireworks should be under the supervision of adults. He finishes this note by saying the more dangerous or powerful displays should not be launched by young kids.
With Independence Day being on a Saturday Kruger recognizes that there will be more partying going on but reminds everyone that it's not smart to drink and drive. "Being the 4th of July is on a Saturday this year, I'm sure people will be partying it up" he says. He give a reminder that the Humboldt police and county deputies will be patrolling and being vigilant for intoxicated drivers. "If you're driving intoxicated you're probably going to end up in the Humboldt County jail."
The 4th of July is coming up this Saturday. Humboldt County Sheriff Dean Kruger and the Humboldt County Law Enforcement Center want everyone to enjoy and celebrate the holiday responsibly.