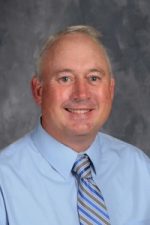 Humboldt, IA – The new superintendent for Humboldt and Twin Rivers schools begins his tenure in the districts and excited by what the schools and community have to offer.
A new era begins for the Humboldt Community School District as the next superintendent begins his tenure. On Wednesday, July 1, Jim Murray will officially begin his time as the superintendent of schools for Humboldt and shared time with Twin Rivers Schools. Murray is excited to be coming back to an area he knows well and brings a collaborative mind set to the position.
Murray is from Algona, just north of Humboldt, and he is excited to be coming home. "My family and I are absolutely thrilled" he says. "We're coming home." He looks forward to being closer to his parents and notes the Humboldt community offers a great quality of life and good education for his high school daughter.
The new superintendent says the schools he's going to be working with have great community support. "The bones are great here" he says in noting that all involved with the district from parents to staff take pride in the district. "That's what you want." He says he has received a lot of positive energy from those who have reached out to him and is "absolutely amazed and wowed" by the culture in the district.
Murray says he plans to have an "open door" policy when it comes to the community and those around him so he can better help create a clear vision for the district going forward. He says the district needs to have a "clear vision" on what success looks like for students. Murray says his goal is to help the school board develop that vision. He says his role as the superintendent is to connect everyone including staff, students, parents and community members to achieve that vision.
The Humboldt Community School District and Twin Rivers Board of Education hired Jim Murray back in March of 2020. Since then, Murray has been involved in the realigning and hiring of the new administrative staff for the districts.