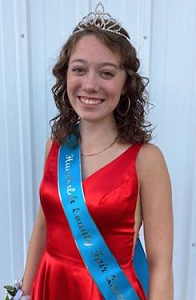 By: Donovan W. Mann – donovanm@977thebolt.com
Humboldt, IA – Kirchhoff is honored to make a dream a reality as she is crowned the 2020 Humboldt County Fair Queen.
The 2020 Humboldt County Fair Queen is honored and thankful to those who helped her acquire the title. As previously reported by KHBT, Holly Kirchhoff was named the 2020 Humboldt County Fair Queen on July 22. She talks with KHBT on being crowned means to her and provides an insight on the judging process.
Kirchhoff calls it an honor to get to represent the county as the fair queen. "Such an honor" she says as she thinks about her involvement with the fair over the years. She says that since she could remember she's been coming down to the fair. Since she was in fourth grade she has been presenting multiple projects from live stock to rabbits and even a bottle lamb once as well. "It's just incredible to be able to represent Humboldt in this manner" she says.
She says that the judging process and competition occurred the Friday before the fair and was very competitive with five entries. The contest started with a biography where they talked about themselves in a max of 10 minutes. That was followed by individual interviews were the contestants were given questions and required to answer in detail. The final part was a group discussion on controversial issues and topics of discussion.
The day of the announcement, Kirchhoff says she was nervous throughout the day to hear what the results were. "My nerves were pretty high" she says. She was glad to see that community support that had come out Wednesday evening. "Then when they finally announced that I was chosen to be the 2020 fair queen, I was just so excited" she continues. Kirchhoff says this was a moment she's been hoping for, for quite a few years.
During a normal year Kirchhoff would be involved in most grand stand events throughout the course of the fair and compete in the Iowa State Fair Queen contest along with the duties of helping hand out trophies and ribbons to exhibitors. However the circumstances surrounding this year resulted in no grandstand activities or state fair queen contest.
In closing Kirchhoff says she would like to thank the Humboldt community and her local business sponsor, Hy-Vee, for supporting her throughout the process.