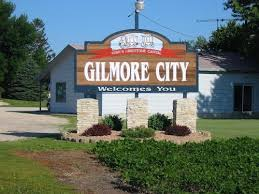 By: Donovan W. Mann – donovanm@977thebolt.com
Gilmore City, IA – The Gilmore City Fun Days are right around the corner with a modified and limited schedule this year.
Starting Friday, Aug. 28 and running through the weekend the Gilmore City will be enjoying their annual Fun Days event. Due to COVID-19 they have decided to limit the schedule but will continue to have plenty of fun activities.
Those wishing to participate in the photo scavenger hunt can pick up the paper at City Hall before 4:30. Saturday will feature a day of events starting with the city wide garage sale starting at 8 am and ending with 8 pm with a smoked pork butt sandwich dinner at the Lime Stone Café and Lounge. The Gilmore City Parade will also be Saturday at 10:30 am. Sunday will include a tractors meet and display on Main Street and at the Gazebo Park at 10:30 am Cowboy Church.
The Gilmore City Fun Days going on this weekend. A complete schedule of activities can be found on 977thebolt.com/calendar.