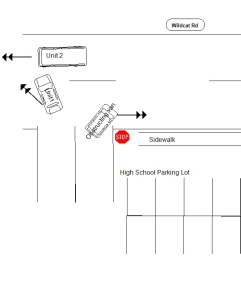 By: Donovan W. Mann – donovanm@977thebolt.com
Humboldt, IA – No injuries reported after a two car incident occurs near the high school in Humboldt.
Officer Susan Rutz of the Humboldt Police Department files the report on the incident. Her report states that on Wednesday, Sept. 2, she was present at the Humboldt High School parking lot to help monitory traffic flow. While present an incident  occurred near the west exit of the lot. According to the report, a minor from Humboldt had stopped at the stop sign looking to turn left onto Wildcats Road when another vehicle had blocked their view of oncoming traffic.  The minor began to proceed forward, not seeing an oncoming red and white public transport. The action resulted in the minor striking the bus on the driver's door with her silver Chrysler 200.
The action resulted in minor damages to both vehicles that were driven away from the scene. No injuries were reported by Officer Rutz at the time of the incident.