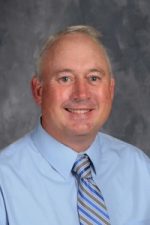 By: Donovan W. Mann – donovanm@977thebolt.com
Humboldt, IA – Humboldt and Twin Rivers Schools leadership is excited and continuing forward with optimism after the first month of the school year.
At the end of August the students of the local school districts made their return to the classroom for in person learning for the first time since March. While there is still a lot of uncertainty surrounding the school year Superintendent of School Jim Murray is glad they are back.
He says that it's exciting to see the learning occurring as completely in person for most students. "Goodness we are just about a month into the school year and the thrilling part is we're here in person." He says that having the complete in person for all grades, K-12 is a huge accomplishment for the schools. While the challenges of COVID-19 still exist, Murray says that if "you had told me where we're at in terms of having activities and kids in school, I'd be thrilled back in June."
Murray says that only a handful of students have contracted the virus during the first month of school. However, more have had to miss school due to the schools mitigation efforts. The superintendent says that about 50 kids have had to miss school due to the being in the vicinity of someone who has tested positive for COVID-19. He calls that the challenge of the world we live in as a lot of healthy kids have to miss school due to the safety measures. Not all 50 kids have missed at once but about 10 to 12 a week. "And I wonder if this is just going to have to be kind of our way to life for a while."
One thing the schools have been doing to avoid an outbreak amongst the students is contract tracing with in the halls and classrooms. "It's not an easy process," the superintendent says. Each school has a tight seating chart in each classroom as well as at lunch. These charts are used as a reference to see who was exposed when a positive case emerges within a school. Another huge part of contact tracing is the student informing public health and the schools who've they've been around. "So it is quite time consuming, but I think's we're able to successfully do it. Sadly, Donovan, we're getting better at it."
Murray says that he has continued to hear positive things from the students and families in support for continued in person learning. He says the goal is to continue with in-person model of learning for a long as possible because he recognizes some technological barriers might exist for some of the students.
Superintendent of Schools Jim Murray and all of the Humboldt and Twin Rivers Schools assure the community they are doing everything in their ability to keep the student and families healthy and in the classroom for the entire year.